Next Concert: New World
Musical Director and Conductor: Helena Jung.
Held at the Native Sons Hall, 360 Cliffe Ave, Courtenay
Saturday, May 14th, 7:00 pm, and Sunday, May 15th, 2:00 pm. Doors open 30 minutes before each performance.
$25 for adults, $15 for children ages 12 and under.
Tickets available at: https://strathcona-symphony-orchestra.tickit.ca/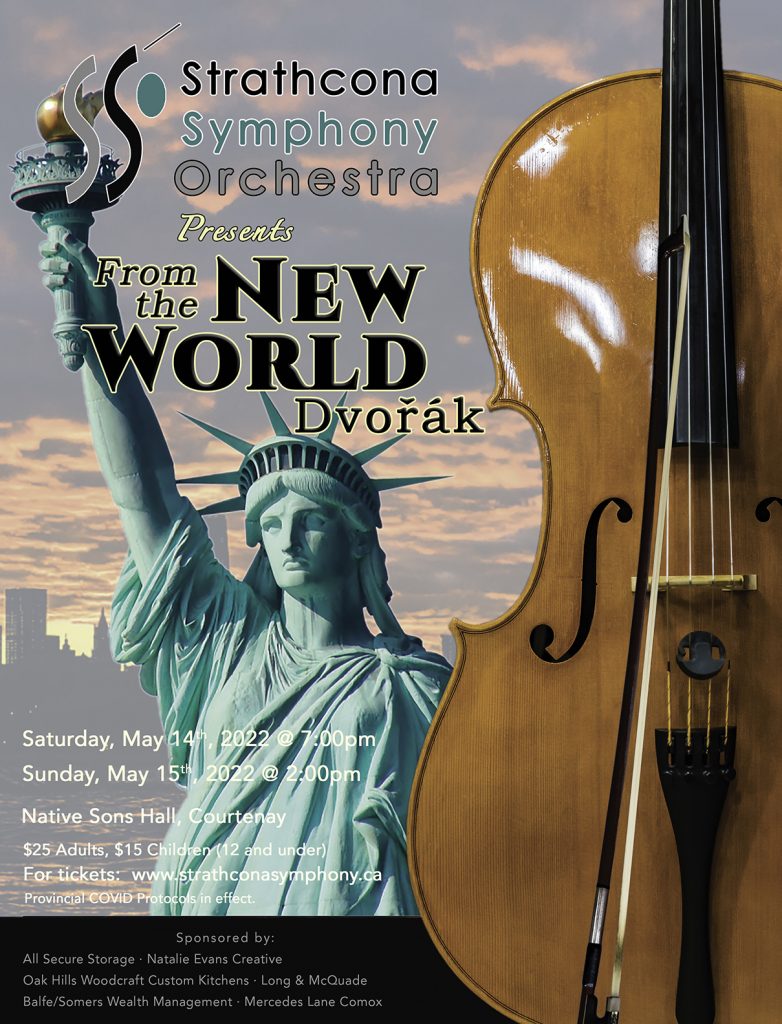 Dvořák's Symphony of Hope comes to the Comox Valley
Courtenay, B.C. March 21, 2022 – After a sold-out March performance, the Strathcona Symphony Orchestra ("SSO") is excited to present Antonín Dvořák's Symphony No. 9 in E Minor, Op. 95, commonly known as the New World to Comox Valley audiences. Dvořák's masterpiece is regarded to be one of the top ten greatest symphonies in the world.
"Although I chose this work last December to challenge the orchestra to work on a complete symphony, the broadcasting of turmoiled events in Ukraine makes this piece all the more relevant", said Helena Jung, the SSO's Music Director.
"Dvořák drew on his challenge of working as an immigrant in America during his directorship with New York's National Conservatory of Music and his yearning for home is evident in the New World".
"Although each movement from this symphony is powerful, the English horn soloist's introduction to the second (Largo) movement, encapsulates the yearning for family and the familiar".
"One of Dvořák's students, William Arms Fisher, wrote lyrics for the Largo section and the song, Goin' Home, is still a beloved spiritual for many listeners", said Ms. Jung.
The New World is a dynamic and influential example of how American composers were offered a fresh approach to represent their own voice without relying on the traditional European musical style.
In addition to the New World symphony, the SSO will perform Franz von Suppe's Cavalerie Légère and Welsh composer, Karl Jenkins' Benedictus, part of The Armed Man: A Mass for Peace. 
Make sure to bring a printout of your ticket (or the app showing your ticket). Arrive at least a half-hour before showtime to allow us time to process all this information.

Although the mask requirement has been eased, we encourage patrons to continue to wear masks during events, now optional, for the benefit of all in our community. Please note that these requirements may change when new public health directives are updated.
For more information or if you have any questions, please us at email strathconasymphonytickets@gmail.com.